Next Steps
Presidential Transition Advisory Committee (PTAC) will guide engagements: suggesting stakeholders and formats for orientation to the College and the community.
Board of Trustees will convey their goals : drawing on their deep knowledge of the College, diverse engagement, and connections to county stakeholders, the Board's direction will thoroughly inform the next chapter at the College.
Data-informed decisions grow: using data to direct choices about pathways allows it to have the most relevant impact. Working rigorously to standardize definitions of data and making it more accessible and transparent will improve processes and accuracy.
Assessment review: by surveying senior teams, I will examine how efficiently several teams' input advances key decision-making processes. Reviewing current data from students, faculty, and staff will also inform the path forward.
Strategic enrollment exploration: gathering best practices on recruitment, marketing and enrollment, will allow the College to consider options and strategies for enrollment management.
Partnership growth: outreach to regional non-profits and businesses, will allow the College to share the College's mission and to attract people and institutions with shared values.
Expanding equity and inclusion: by modeling, teaching, and exploring social justice, the College has created considerable momentum and will engage additional allies to accelerate it.
Implement East County educational expansion: relying on the regional needs assessment, the College will help steward the new educational facility into existence.
Imagine the future: continue gathering the history and perspectives of the College to synthesize a vision of progress and impact that benefits even more people in our communities.
Inauguration: I will share a vision for the College that includes the voices of diverse College stakeholders, empowers our faculty and staff, and serves students in order to maximize their potential.
(click thumbnail to see larger image)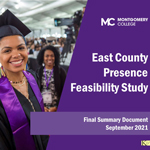 ---