Office of the President
Dr. Jermaine F. Williams is the 11th President of Montgomery College.
The Monday Minute with Dr. Williams
Read the latest
Monday Minute
update from Dr. Williams, or find a previous Minute in the archives.
Dr. Jermaine F. Williams became the president of Montgomery College on February 28, 2022. Dr. Williams' work in higher education has focused his energies on improving access for students, as well as retention, graduation, and post-completion success. He has paid special attention to mitigating institutional societal and racial inequities, strategically creating programs and policies that support historically underrepresented and/or marginalized groups. He has years of experience designing, managing, and enhancing institutional and statewide programs and initiatives that have yielded positive student outcomes. Read more about Dr. Williams.
2023 Slide Show
Dr. Williams, faculty, staff, and students at the April 12, 2023 Inclusion Ceremony.
Dr. Williams and Seth Goldman, April 21, 2023.
Dr. Williams with Federal Student Aid staff on the Takoma Park campus spotlighting the importance of trade and career programs and training and encouraging students to complete the FAFSA form, April 26, 2023.
Dr. Williams at MC Closing Meeting, May 17, 2023.
Dr. Williams at MC Commencement, May 19, 2023.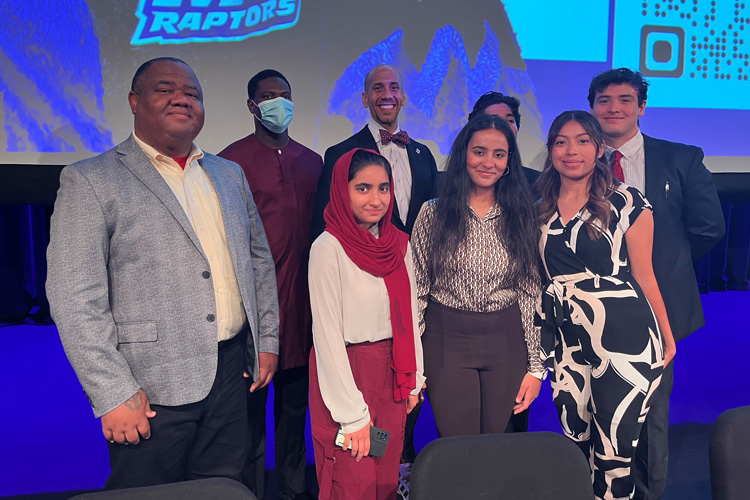 Dr. Williams with Student Panel participants, Opening Meeting, August 23, 2023.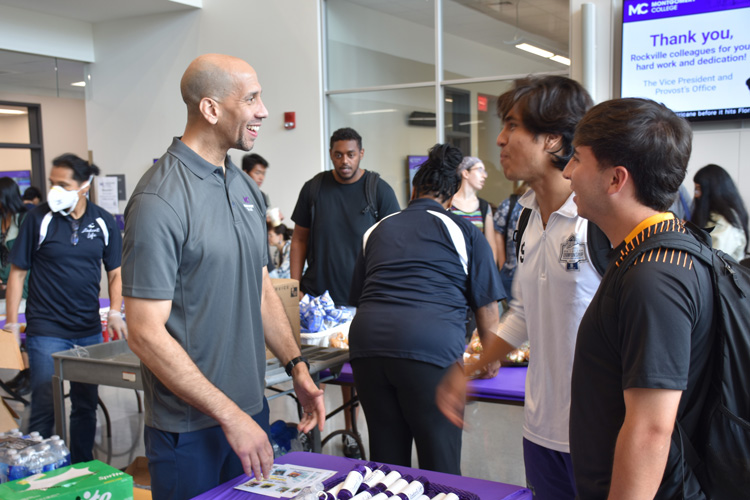 Dr. Williams with MC student soccer players at the Student Services Building on the Rockville campus on the first day of classes, August 28, 2023.
Presidents are listed by year of service at Montgomery College:
Hugh G. Price | 1946-1953
Dr. Donald E. Deyo | 1953-1965
Dr. George A. Hodson, Jr. | 1965-1966
Dr. William C. Strasser | 1966 - 1979
Dr. Robert E. Parilla | 1979 - 1999
Dr. Charlene R. Nunley (Gold Medallion) | 1999 - 2007
Dr. Brian K. Johnson | 2007 - 2009
Dr. Hercules Pinkney (Gold Medallion) | 2009 - 2010
Dr. DeRionne P. Pollard (Gold Medallion) | 2010–2021
Dr. Charlene Dukes (Interim) | 2021-2022
(Awarded by the Board of the Trustees, the Gold Medallion recognizes exceptional service and nationally recognized presidential leadership in higher education.)