Future Students

Welcome to Montgomery College
We've laid out all the steps you need to follow to become an MC student. Click the button below for details on each step of the process, or see the Raptor Reference card (PDF,

) for an easy-to-follow checklist. You might also be interested in special audience pages for adult learners, or for parents and families.
Get Started
Not ready to apply yet? Find more information below or fill out our information request form and we'll be in touch soon.
Events
Find information sessions and recruiting events.
Campus Tours
Take a virtual tour of any of our three beautiful campuses.
How-To Videos: Getting Started at MC
Watch our series of helpful how-to videos for everything you need to know to become a student at Montgomery College.
Contact a Recruiter
Germantown
Biography
Welcome! It is my pleasure to serve as one of your Germantown recruiters, as Montgomery College is your pathway to success! Whether you desire to earn your associates degree, transfer to a four-year institution or receive training through our Workforce Development & Continuing Education (WDCE) program, it is our goal at MC to guide you to the next level. Between the tremendous faculty members, a supporting staff and a robust campus life department, you can expect a well-rounded experience at MC. I look forward to witnessing your growth and eventual success as a student at the largest community college in Maryland!
Hometown: Uniondale, NY
Undergraduate Major: English
Hobbies: Reading, traveling, mentoring youth, watching sports (I LOVE the NY Knicks!) & public speaking.
Favorite thing about MC: The customer service that is shown to customers, diversity and the close-knit environment.
Rockville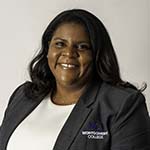 Email: kristina.little@montgomerycollege.edu
Phone: 240-567-4146
Biography
As a lifelong Montgomery County resident, Montgomery College has always provided opportunities that nurtured my growth & development as a camper, student, employee, and active community member. I believe higher education institutions are filled with endless resources that fuel students' success. I am confident I will play a "transformative role in the lives of individuals, businesses, and communities throughout Montgomery County, Maryland."
HomeTown: Silver Spring, MD
Education: BS Psychology, Post Baccalaureate Certificate in Organizational Development, Master of Business Administration
Hobbies: Hiking and traveling with my family
Favorite thing about MC: The diversity of Montgomery College's student population, academic programs, resources for community members, and workforce is unrivaled.
Biography
I see myself as a dream facilitator, and my greatest joy is seeing students achieve their hopes and dreams. My goal is to guide freshman, transfer, and international students of all backgrounds and academic abilities to succeed in college and realize their full potential. I am an enthusiastic and dedicated college recruiter located at the Rockville Campus who will be by your side during every step of the college application process. I welcome and wish you all the best for your wonderful journey at MC.
HomeTown: Germantown, MD. Born in India
Education: BSC, MSC
Hobbies: Travelling and Listening to music.
Favorite thing about MC: The excellent standard of education, diversity, and its flexible academic environment.
Takoma Park/Silver Spring
Biography
Being a first-generation American who came to the US at the age of fifteen, I realized that American exceptionalism and opportunities are available to all if you are willing to work hard for them. I have a passion for helping students achieving their educational goals because I truly believe in higher education and what it may bring to your future success and decision making. I hope to positively influence as many people as I possibly can in this wonderful journey at MC.
Hometown: Hyattsville, MD. Born in Saigon, Vietnam
Education: BSB, MBA, G/ACC
Hobbies: Online Gaming and Fishing
Favorite Things about MC: Its diversity and commitment to higher education for all."
Events
New Student Enrollment Information (Virtual) Walk-In Hours
Join our virtual walk-in hours (PDF,

) to get one-on-one assistance with your enrollment questions.
If you have completed enrollment steps 1-3 (PDF,

) , and need assistance with registering for your classes, join us at the Registration Open House!
Wednesday, August 10, 2022, 10 a.m.–2 p.m.
In person: Rockville Campus, SV Lobby
Virtually: Zoom Linknew window

Sign up here for assistance:

*To request a reasonable accommodation, please email Camille Cauley at recruitevents@montgomerycollege.edu. Requests should be made at least two weeks in advance of the event.
Recorded Events
Financial Aid Night
Want to learn how to save money for college?
Join us to learn all the different ways to receive financial aid and scholarships at Montgomery College.
Raptor Chat: Why MC?
A webinar on benefits of attending MC
A discussion about:
The benefits of attending Montgomery College
Navigating the MC website to locate resources
Steps to enroll
Where to find and complete the MC application
Raptor Chat: ¿Por qué elegir MC?
Únase a nosotros para una discusión sobre::
Como puede obtener créditos universitarios para obtener un certificado o una carrera universitaria en Montgomery College
Como puede ahorrar hasta un 50% en costos de matrícula en comparación con las universidades públicas de cuatro años.
Con tres recintos y una amplia selección de cursos en línea, ofrecemos flexibilidad y conveniencia.
Conozca los servicios disponibles para ayudar a nuestros estudiantes a tener éxito
Los pasos para matricularse en Montgomery College
Skip sidebar section
Información en Español
End of sidebar section