SHRM Essentials of Human Resource Management
The SHRM Essentials® of HR Management is an introductory course offering a complete overview of human resource roles and responsibilities. If you are just starting out in the profession, or are looking for an effective way to boost your employee management skills, this is the program for you!
Offered in partnership with the Society for Human Resource Management (SHRM), the curriculum provided in the SHRM Essentials of HR is designed by global subject matter experts and incorporates six key topics from the SHRM Body of Competency and Knowledge™ (SHRM BoCK (PDF,

) ™). Our course is designed to help you learn and retain the material effectively and efficiently by combining learning materials with expert instruction and peer discussion.
Benefits to SHRM Essentials of HR:
You:
An experienced, SHRM-certified instructor.
A solid HR knowledge foundation to build on as you advance in your career.
A structured learning experience that keeps you on track.
Opportunities to network and learn from your peers.
It sets the stage for further professional development with the SHRM-CP/SHRM-SCP certification.
Professional Development Credits (PDCs) or recertification credit hours and a certificate upon completion.
Your Employer:
Reduces company's risk of potential high-cost litigation.
Promotes a consistent understanding of the HR function to non-HR management.
Offers professional development for divisional or departmental supervisors to ensure HR compliance.
Develops a common dictionary of HR terms for the entire organization.
Covers real-life HR issues and current, vital topics including: employment law; selecting qualified employees; compensation; orientation and training; and the performance management process.
Fall 2023 Course Details:
SHRM Essentials of HR Management: CRN# 24230
Dates: October 12 - November 16, 2023 (6 Thursdays)
SHRM Essentials of HR Management
Course: MGT-718
CRN# 24230
Dates: October 12 - November 16, 2023 (6 Thursdays)
Time: 6:30 p.m. - 9:30 p.m.
Location: Structured Remote.   
*Note: Structure Remote (SR) courses are online courses that will meet at a designated meeting date and time, live with your instructor.
Investment:
$260.00 tuition + $335.00 fee* = $595
*Non-Maryland Residents add $250
Contact: Noel Lazaro noel.lazaro@montgomerycollege.edu or (240) 567-2563
Who Should Enroll?
Designed as a thorough introduction to HR basics, the SHRM Essentials of Human Resources course provides a solid foundation in human resources concepts and is effective training across multiple job responsibilities and career paths.
New and junior HR practitioners who need to increase their knowledge base.
Small business owners or office managers who perform the HR function for their company and business managers who want to learn basic HR best practices to avoid costly litigation.
New or experienced managers interested in learning more about employee management skills.
Representatives selling or supporting HR systems and services
International HR personnel wishing to increase their knowledge of U.S. HR practices.
Job seekers who are investigating HR as a new career option or want to enhance their resume with HR skills.
Course Materials
We understand the demands on the HR professional. That's why the SHRM Essentials of Human Resources course balances printed materials, online learning, and live instructor support to meet students' learning needs and schedules.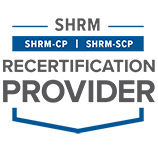 Montgomery College is recognized by SHRM to offer Professional Development Credits (PDCs) for the SHRM-CP® or SHRM-SCP®.