Human Resources
Human Resource Management with Montgomery College!
Montgomery College recently named to SHRM's Top 20 Education Partners for 2022 and Top 10 for enrollments of SHRM Essentials of Human Resources.
This is an exciting and pivotal time in the HR profession. Now, more than ever, HR teams are required to assume a greater leadership role, contributing to the strategic direction of their organization. The HR profession is no longer just about  what  you know–but  how  you do your job. View the Human Resources Brochure (PDF,

) .
Spring 2024, SHRM Classes, Registration is now open
Spring 2024, SHRM-CP® / SHRM-SCP®
Set Yourself Apart With SHRM Certification
In the ever-evolving human resources landscape, it can seem difficult to stand out and prove your value. However, by earning your SHRM Certified Professional (SHRM-CP®) or SHRM Senior Certified Professional (SHRM-SCP®), you can prove your knowledge, competency, and value to colleagues and to employers looking for a competitive edge in today's global economy.
Maximize your chances for success with SHRM Certification with Montgomery College's The SHRM Learning System for SHRM-CP® and SHRM-SCP® Certification Preparation Course.
Certifications and PDC / Open Enrollment Descriptions
HR professionals like you are facing new and larger challenges each day due in part to a changing workforce, shifting legislation and regulations and so much more. Ensure you're prepared for these changes, and anything else thrown your way with SHRM's global HR credentials, SHRM-CP and SHRM-SCP.
Unlike memorization-based certification credentials, SHRM certification measures an HR professional's most critical skill: the ability to apply HR principles to real-life situations. No other exam compares.
SHRM Certification Details including eligibility requirements.
This SHRM Essentials of Human Resources course covers the topics you need to meet key HR challenges that are relevant to you and your company. Developed by leading HR experts, HR practitioners, and legal counsel, the SHRM Essentials of Human Resources course covers introductory HR topics in a condensed, easy-to-understand format. The straightforward format ensures that HR concepts can be mastered and applied to real-life situations.
This course is designed for new and junior HR practitioners, small business owners or office managers, new or experienced managers, international HR personnel, and job seekers who are investigating HR as a new career option or want to enhance their resume with HR skills.
We offer courses to fulfill the required continuing education courses or PDCs for individuals with the SHRM-CP® or SHRM-SCP® certification. These courses are also offered as open enrollment courses for students looking to obtain new skills or develop ones they already have.
We offer courses for continuing education. Not all courses are offered every term. View all of our eligible courses and their descriptions.
Montgomery College does not administer the SHRM-CP® or SHRM-SCP® exams nor do we provide the Authorization to Test (ATT) Letter. For more information on applying for the SHRM certification exams, go to SHRM websitenew window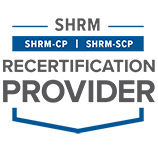 Montgomery College is recognized by SHRM to offer Professional Development Credits (PDCs) for the SHRM-CP® or SHRM-SCP®.