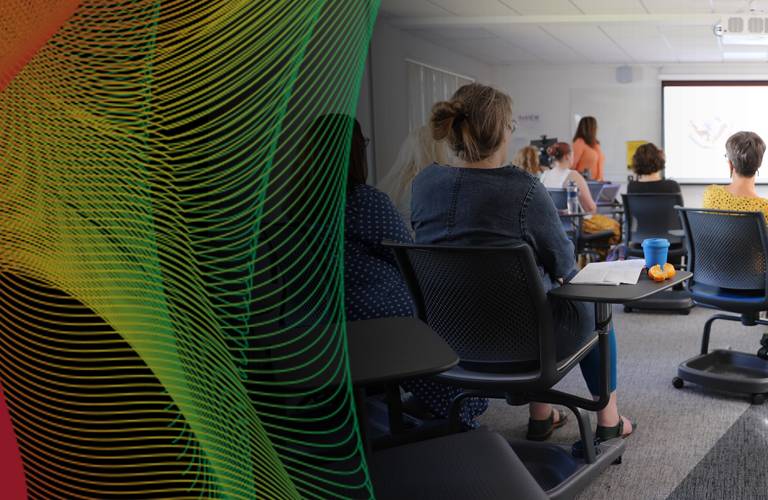 11th International Digital Storytelling Conference
Radical Listening: Story Work for a Just Future
June 20, 21, 22 and 23, 2023University of Maryland, Baltimore County | Montgomery College | Smithsonian Institution | StoryCenter
Call for Proposals
11th International Digital Storytelling Conference 2023 Radical Listening: Story Work for a Just Future
We invite proposals for in-person and virtual participation in the 11th International Digital Storytelling conference (DST 2023), to be held in the Washington, D.C. and Baltimore MD metropolitan region of the United States in June, 2023. Local hosts include the University of Maryland, Baltimore County; Montgomery College; and the Smithsonian Institution.
First held in 2003, the International Digital Storytelling Conferences are an opportunity for our global community of practice to gather, exchange ideas and share stories. This year's conference will be the third in a series of multi-institutional, multinational collaborations organized by Loughborough University (UK), Montgomery College (US), Patient Voices (UK), Smithsonian Office of Educational Technology (US), StoryCenter (US), and UMBC – University of Maryland Baltimore County (US). The first event, a 24-hour online marathon was held in 2021 during COVID lockdown (DST2021new window). In June, 2022 an in-person conference took place in Loughborough (DST 2022new window). DST 2023 will include a series of follow-on activities building on the themes of these previous events. The conference will host events (both in person and online) in its structure for inclusion of diverse perspectives and voices.
For DST 2023: Radical Listening: Story Work for a Just Future we are particularly interested in proposals focusing on how our Story Work can help us and our communities.
To frame your ideas consider these and other possibilities as lenses through which look at context, content, purpose or practice:
Radical listening for amplifying voices
Cultivating hopes and healing for a just future
Story luminaries: Shining light on cultures, voices, and practices
Equity and access
Urgent story work in urgent times
Building and cultivating communities
Histories and cultures in storytelling
Research on DS as research methodology; DS for assessment; DS pedagogy
This conference will have three days of in-person sessions on June 20-22 and a final day on Friday, June 23rd that is fully virtual. All virtual presentations will happen on Friday, June 23rd. All conference contributors are invited to share their work in the following formats.
Conference Formats:
Academic, research-based paper. We invite you to share academic papers based on research related to the conference theme. These sessions will be 90 minutes with four 15 minute presentations plus questions. These presentations can be either in-person or virtual. Completed papers may be considered for inclusion in conference proceedings or journal publication.
Project reports as Pecha Kucha*. Our PechaKucha storytelling format includes 8 slides with 20 seconds of talking for each, and one digital story of no more than 4 minutes. We kindly request that all presentations designed to share case studies, works in progress, or the results of a project select this Pecha Kucha format which are tightly timed seven minute presentations. While we welcome case studies with examples of excellent or innovative practice, we are particularly looking to address questions around the role, purpose and direction of participatory storytelling. This session will be 90 minutes with each presentation being a strict seven minutes. There will be 8 presentations with shared Q and A and discussion after all of the presentations. There will be multiple themed PechaKucha sessions. These presentations can be either in-person or virtual.
Workshop with active participation of attendees. We invite you to develop a hands-on experience of story work for participants. There will be a computer lab available for hands-on skills based workshops. These sessions will be 90 minutes and in-person only.
Panel. We invite you to curate a panel of individuals to share their reflections on a common theme or context for story work. One person should apply as the facilitator and indicate the other panelists they hope to invite to join them. The panel will be 45 minutes. all in-person or all-virtual, no mixed groups). We are open to pre-recorded panels.
Other
*Pecha Kucha presenters will be asked to attend a 1hr workshop ahead of the conference to learn about the format.
Submission guidelines & key dates:
250-word abstract to describe your proposal
Please specify in-person or virtual participation
Please specify which presentation format (see above).
Include a title, your name, email address, and affiliation if applicable
Submit your abstract/proposal via the Google form

new window

.
Please indicate which format you wish to present in (multiple choice with the four formats listed above as options).
Your preference for in person (Tues-Weds) or Virtual (Friday), or you have no preference.
Deadline for abstract submission: January 29, 2023 (extended)
Notification of acceptance: February 17, 2023
Final Abstract updated for publication submission: June 1, 2023
While the majority of the 2023 conference will be in-person sessions, the final day will be fully online. Please indicate if you intend to present in person or online.
Conference registration information including fees is forthcoming. Any questions or inquiries should be directed to: dst-2023@umbc.edu