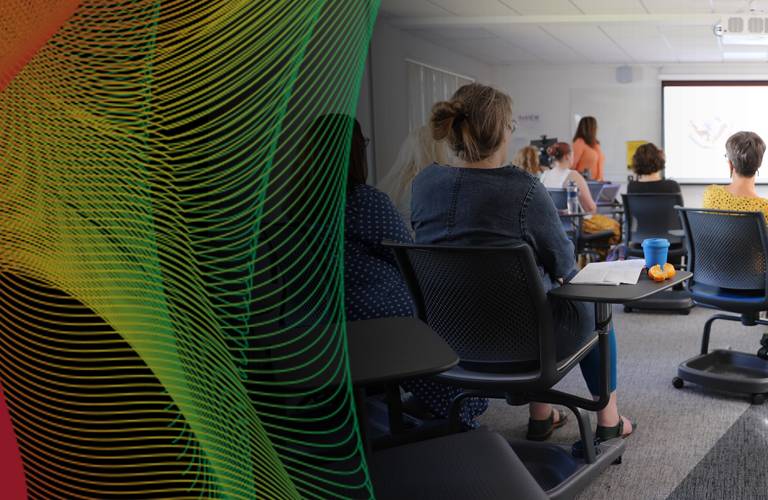 11th International Digital Storytelling Conference
Radical Listening: Story Work for a Just Future
June 20, 21, 22 and 23, 2023University of Maryland, Baltimore County | Montgomery College | Smithsonian Institution | StoryCenter
Keynote Speakers
Keynote for Tuesday, June 20th, UMBC
Keynote: Nancy Goldring
Title: Mapping the Road to Freedom: Nature, Art and Stories
Nancy Goldring has deep roots in historic East Towson. Her ancestors were among those formerly enslaved at Hampton Plantation (now Hampton National Historic Site) documented as far back as 1791. Today, Nancy champions the Road to Freedom Trail, a cycling and pedestrian route that connects 13 sites of historic significance from Hampton to East Towson revealing a history otherwise hidden in plain sight. Nancy speaks from her lived experience and a commitment to unique and generative solutions to sharing a rich and complicated history in ways that protect and preserve her community's distinctive thread in the fabric of American History.​
---
Keynote for Wednesday, June 21st, Montgomery College
Keynotes: Pip Hardy and Tony Sumner
Title: Transforming Healthcare with Patient Voices
Pip Hardy and Tony Sumner are co-founders of the Patient Voices Programme, established in 2003 in response to the urgent need for better communication and understanding of all healthcare stakeholders' experiences of care. Bringing the ancient tradition of storytelling to life via new technologies, the programme offers new possibilities for involving and engaging patients, carers, families, service users, clinicians, managers and leaders as a means of bringing about greater humanity and compassion in healthcare. Empowering people to share their stories in their own words provides the basis for patient and public involvement, organizational development, quality improvement and leadership programmes founded on the experiences of those involved in the system to complement the results of surveys and research formulated by the system.
Patient Voices operates as a social enterprise dedicated to the creation and distribution of these important stories. Now home to over 1,000 stories of health and illness, tragic losses and miraculous recoveries, the Programme is widely respected as being the only resource of its kind in the world, receiving over two million total hits per annum on the website and with stories being used by, among others, the UK Chief Medical and Nursing Officers, and in schools of medicine and healthcare throughout the English speaking world and beyond.
Pip and Tony are considered to be the world's leading practitioners in digital storytelling in healthcare. The methodology developed for creating Patient Voices Reflective digital stories has been acknowledged as a valid method of gathering qualitative data by the UK National Audit Office, among others, while the three-stage ethical consent and release process they have developed is recognised as an exemplar of good practice in digital storytelling and other forms of participatory research.
Pip and Tony bring a range of knowledge and expertise from their past lives: Tony has degrees in physics and astronomy and astrophysics and many years' experience working in the computer industry, while Pip has degrees in English Literature and Lifelong Learning and worked for many years in adult education, writing and editing books and open learning programmes. Her PhD investigates the transformative potential of digital storytelling in healthcare.
The Patient Voices Programme has won a number of awards, including the 2010 British Medical Journal award for Excellence in Healthcare Education. It sprang from, and sits within, the work of Pilgrim Projects Limited, an education consultancy specialising in the development of high quality open, distance and e-learning programmes across a range of sectors.
---
Keynote for Thursday, June 22nd, Smithsonian Institution
Keynote: Dr. Richard Kurin
Title: Transforming the Museum Experience
Dr. Richard Kurin started his Smithsonian career working on America's Bicentennial celebration in 1976. He is currently Distinguished Scholar and Ambassador-at-Large, focused on strategic and special initiatives, institutional representation, and philanthropic support. He previously served for more than a decade as Under Secretary overseeing all of the Smithsonian's national museums, scientific research centers and educational programs. He has played major roles in the development and/or renovation, and transformation of most of the museums ​
For decades before that he served as Director of the Center for Folklife and Cultural Heritage which produces the annual Smithsonian Folklife Festival on the National Mall and the legendary Smithsonian Folkways Recordings. He has also produced major events for the opening of national museums and memorials, for presidential inaugurals and the Olympics.
Kurin also founded the Smithsonian Cultural Rescue Initiative after Haiti's 2010 earthquake and has worked to save cultural heritage endangered by natural disasters and human conflict. In the U.S. he leads the Smithsonian's partnership with FEMA on the Heritage Emergency National Task Force which responds to damage to cultural resources in natural disasters. Internationally, he helped draft an international treaty to safeguard living cultural heritage now ratified by 180 countries. He has worked closely with the Departments of State, Defense, Justice and Homeland Security and with local partners in Iraq, Syria, Mali, Afghanistan and currently Ukraine to safeguard heritage, identify looted art, and monitor terrorist activity and war crimes directed against cultural targets. He has served as Smithsonian liaison to the White House Historical Association, the U.S. President's Committee for the Arts and Humanities, the intergovernmental Cultural Heritage Coordinating Committee, and the Federal Interagency Panel for World Heritage. An anthropologist with a PhD from the University of Chicago, he has authored seven books including The Smithsonian's History of America in 101 Objects, taught at the Johns Hopkins School of Advanced International Studies, is a fellow of the American Academy of Arts and Sciences and a senior fellow at the Atlantic Council Arsht-Rockefeller Resilience Center.
---
Keynote for Friday, June 23rd, StoryCenter
Keynote: Lisa Nelson-Haynes
Title: Preserving Shared Humanity
Lisa Nelson-Haynes, Interim Chief of Programming at StoryCorps, has been facilitating digital storytelling workshops for StoryCenter for more than seven years and revels in her role of assisting storytellers acquire new, replicable skills as they create their stories using digital tools. She's participated as a facilitator on All Together Now, a national digital storytelling initiative showcasing first person narratives of civic engagement and social change. These stories are featured on Cowbird.com. Lisa presented a digital storytelling case study at the 6th International Digital Storytelling Conference.
StoryCorps' mission is to preserve and share humanity's stories in order to build connections between people and create a more just and compassionate world.
---
Conference Committee Members
Lyndsey Bakewell (DeMontfort University, UK)
Jennifer Baugh (Montgomery College, US)
Jessica Berman (UMBC, US)
Bev Bickel (UMBC, US)
Matthew Decker (Montgomery College, US)
Patrick Desloge (Hong Kong University)
Lindsay DiCuirci (UMBC, US)
Sara Bachman Ducey (Montgomery College, US)
Mark Dunford (University of Westminster/DigiTales, UK)
Daniela Gachago (Cape Peninsula University of Technology, South Africa)
Jamie Gillan (Montgomery College, US)
Pip Hardy (Patient Voices, UK)
Brooke Hessler (StoryCenter, US)
Courtney Hobson (UMBC, US)
Tricia Jenkins (DigiTales, UK)
Sarah Jewett (UMBC, US)
Charlotte Keniston (UMBC, US)
Joe Lambert (StoryCenter, US)
Antonia Liguori (Loughborough University, UK)
Michalis Meimaris (University of Athens, Greece)
Daniel Onyango (HopeRaisers, Kenya)
Ngozi Oparah (Loughborough University, UK / StoryCenter, US)
Philippa Rappoport (Smithsonian Office of Educational Technology, US)
Bill Shewbridge (UMBC, US)
Burcu Simsek (Hacettepe University, Turkey)
Tony Sumner (Patient Voices, UK)
Pam Sykes (University of the Western Cape, South Africa)
Mike Wilson (Loughborough University, UK)