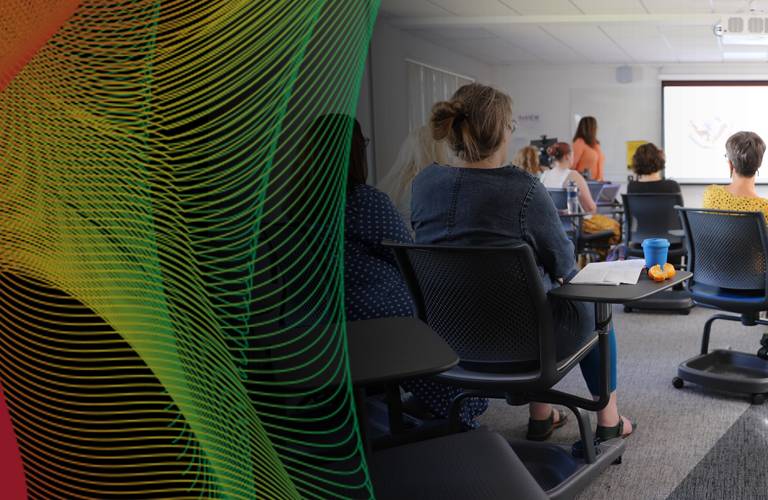 11th International Digital Storytelling Conference
Radical Listening: Story Work for a Just Future
June 20, 21, 22 and 23, 2023University of Maryland, Baltimore County | Montgomery College | Smithsonian Institution | StoryCenter
Instruction for Presentations
Tips for Creating Accessible & Inclusive Presentations
The following information has been gathered from multiple sources and is intended as guidance to plan and present an accessible webinar.


Planning an Inclusive Presentation
Designing Accessible Materials and Slides
During your Presentation
Name
Title and Affiliation
A very brief visual description of yourself. Presenters decide how they'd like to describe themselves. Many often include:

race,
ethnicity,
pronouns,
description of clothing, hairstyle, and prominent accessories (glasses, etc.)
Speak or sign in a comfortable tone and at a comfortable pace.
Set expectations for audience participation, including when to ask questions.
Repeat or read audience comments or questions into your microphone if they are shared in a less-than-accessible format, such as via direct message or without a microphone.
Use plain language. If you need to use jargon or acronyms, remember to define them for everyone.
Cover all the content on your slides. It's not necessary to read them word for word but the information presented on the slide should match your remarks.
Demonstrate and describe what you do, and the images and graphics on your slides necessary for understanding all the content.
Keep track of time. If you find you are running long, focus on sharing the most important points instead of rushing through the information.
Technology fails sometimes! Be ready to implement your back up plan.

Tools and Resources
More on Accessible Meetings and Trainings
3Play Media: How to Build an Accessible Presentation
Questions?
The conference planning team will host a webinar for all presenters in the spring to help you prepare your materials in advance. Proposals that are accepted will receive more information. If you have any questions or concerns about accessibility, please reach out to ADD IN