Early College Program
NEW: The deadline to submit the required DCCAPS interest form for Fall 2022 admission has passed. Students who submitted the form by November 5th will receive a letter with instructions for the next steps to complete the application process due by Friday, January 7th, 2022
What is Early College?
Montgomery College's innovative Early College program provides Montgomery County Public School students an opportunity to experience college-level courses, accelerate the path to degree completion and entrance into the workforce, and save money on college tuition.
The program is offered at all three MC campuses–and there are several pathways and degree tracks from which students can choose.
Participating students will complete their 11th and 12th grade years of high school while simultaneously completing their first two years of college.
They will graduate with an associate's degree from MC as well as a Maryland State High School diploma.
Apply
STEP ONE: Please view the Early College General Information Recruitment Video to learn about the Early College Program and the application process.
STEP TWO: Once you have watched the General Information Video, we recommend watching these short videos that will provide you with more detailed information on Early College's specific programs.
STEP THREE: Once you have reviewed the videos and found one of Early College's specific programs that you are interested in, it is time to apply for the program.
The MCPS Interest Form

new window

is due to MCPS by no later than November 5th 2021. Students will have the opportunity to indicate their interest in applying for the Early College program and their first and second choice of degree pathways.
After reviewing the MCPS Interest form, eligible students will receive an official MCPS Early College Application and Montgomery College Admissions Application to complete. Your application and instructions should have been sent via email from MCPS.

Both applications will need to be completed and submitted by January 7, 2022 in order to be considered.
Qualifications
Before applying for the program, students should be able to satisfy the following requirements:
Be enrolled at an MCPS high school as a 10th grade student
Have passed Mathematics and English state assessments
Meet the appropriate assessment levels for the program
Have an unweighted high school grade point average of 2.75 or higher
Have met-or be near completion-of required high school Student Service Learning hours
By the end of their 10th grade year, students should have also completed their health, physical education and technology credits.
Benefits
Save money (tuition and textbook costs are covered, college application fee is waived with students only paying for student fees).
Accelerate time to completion (students can transfer to four-year degree or enter workforce).
Experience the pace and rigor of academics at the college and university level
Small class sizes (student-teacher ratio is 17:1)
Embedded coaches (academic support)
Early College coordinators available on every campus
Free Ride On Bus travel
Early College Degree Pathways
The following Early College pathways are currently available. Students should review the pathway and degree information carefully before making their decision.
Rockville campus degrees offered:
Germantown campus degrees offered:
Takoma Park/Silver Spring campus degrees offered:
Early College Parent Guide
This Early College parent guide (PDF,

) is intended to serve as a resource for parents of students who are new to the Montgomery College Early College program.
You can view slides of the 2021 Early College Parent Orientation Meeting (PDF,

) here.
FAQ/Contact Us
Please refer to the following for some frequently asked questions (PDF,

) about the Early College program. If you still have additional questions about Early College, please email earlycollege@montgomerycollege.edu for more information.

What People are Saying
We're all really close. We're always helping each other in different classes. We get together a lot between breaks in our classes. We've even created a couple [campus sponsored] clubs.
Safiullah, Poolesville High School
Commencement Messages from 2020 Early College Program Graduates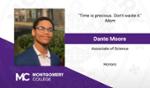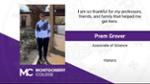 Skip sidebar section
Have Early College questions?
Important Dates
Deadline
Must submit Early College Interest Form by:
November 5, 2021.
Deadline
Students informed they meet program requirements must submit the required MCPS Early College, and MC Admission applications by:
January 7, 2022
Math Assessment
Students will be notified of the Math assessment process in December. They must complete this process between January - February 15 2022.
End of sidebar section