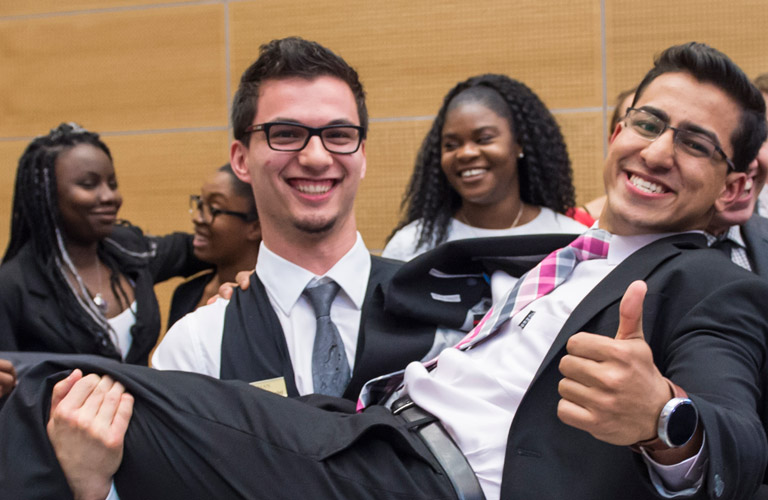 Hillman Entrepreneurs
Supporting Students. Developing Leaders. A
vibrant community of students that share a common entrepreneurial mindset, but have a wide range of backgrounds, experiences, and aspirations.

What It Means To Be a Hillman Entrepreneur at MC
The Hillman Entrepreneurs Program is a three-year scholarship and educational program that supports, develops, and graduates ethical leaders who want to energize and give back to their local communities.
Students complete their associate's degree at Montgomery College and their bachelor's degree at the University of Maryland, College Park.
If you are accepted into the Hillman Entrepreneurs Program at Montgomery College, you will receive funding for two-thirds of your tuition, fees, and textbook/technology expenses, as well as a a one-time $500 merit scholarship. You will also receive one-on-one advising and mentoring from faculty and staff and complete a paid internship, and you'll join a network of aspiring entrepreneurs as you take credit courses to develop your own entrepreneurial and leadership skills.
Find Out More

What People are Saying
I've gained friends through this program that I can see manifesting into lifelong relationships and potentially even business partners. Just by being in this program, I've been able to network in a way I would have never done before.
Andrea Guirola, Class of 2017, Business Major, Incoming Junior at UMCP
Skip section
Upcoming Milestone
1
May
Hillman Entrepreneurs Application Deadline
Have Questions?
Ms. Rebecca Razavi, Program Director
Address
Paul Peck Academic & Innovation Building (PK), Room 175G
20200 Observation Drive
Germantown, MD 20876
End of section