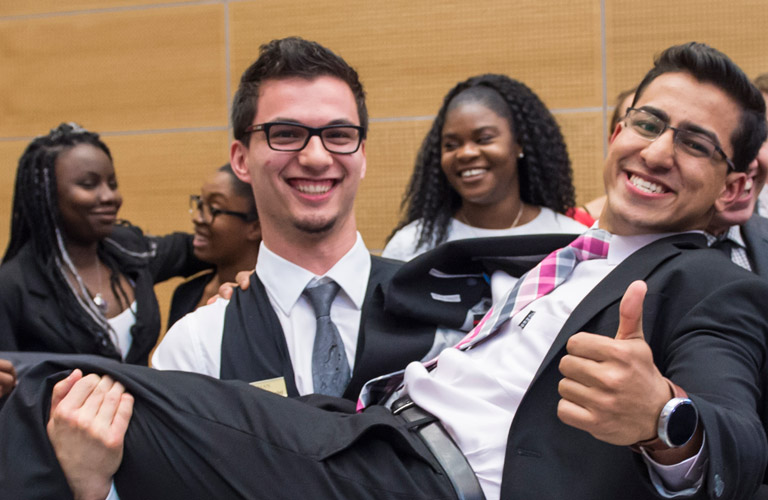 Southern Management Leadership Program
Supporting Students. Developing Leaders. A
vibrant community of students that share a common entrepreneurial mindset, but have a wide range of backgrounds, experiences, and aspirations.
Developing Impactful, Creative, and Inspiring Local Leaders
The Southern Management Leadership Program, is a three-year scholarship and educational program that supports, develops, and graduates ethical leaders who want to energize and give back to their local communities.
Students complete their associate's degree at Montgomery College and their bachelor's degree at the University of Maryland, College Park.
About the Program
For more than a decade, the Southern Management Leadership Program has served to develop local community leaders through a scholarship and intensive mentoring program at Prince George's Community College, Montgomery College and the University of Maryland. The program was founded by Suzanne Hillman, President and CEO of Southern Management Companies (SMC), and the Hillman Family Foundation, as a way to enrich the education of students in Prince George's and Montgomery Counties. These communities are where SMC got its start more than 50 years ago, and where the company's deep roots have stood firm ever since. The mission of the Southern Management Leadership Program is to develop strong leaders, who will use their educations and experiences to make positive and lasting impacts in their hometowns.
The Southern Management Leadership Program benefits the students in many ways – providing financial, academic and professional assistance. Scholarships for Southern Management Leaders account for 55% of tuition at either Montgomery College or Prince George's Community College and up to 50% tuition at the University of Maryland. The students are also eligible to receive additional funds for books and other required technology and benefit from one-on-one advising and mentoring from dedicated Program Directors at each of the three schools.
Perhaps the single most important benefit to students in this unique program is access to the Southern Management Leadership Program network. So many alumni of this program have gone on to found successful companies, take on important business roles and become key leaders in their communities. The ability to network with this ever-expanding group of talented alumni is an extremely important asset to students. Alignment with SMC also provides access to the resources of a local, billion-dollar business with roughly 80 offices and more than 1,700 employees. Leveraging this relationship with SMC provides additional access to business professionals, various internship possibilities and valuable opportunities to develop professional relationships.
Find Out More

What People are Saying
I've gained friends through this program that I can see manifesting into lifelong relationships and potentially even business partners. Just by being in this program, I've been able to network in a way I would have never done before.
Andrea Guirola, Class of 2017