International & Multicultural Student Center
International & Multicultural Student Center
Who We Are
The MC International & Multicultural Center was founded in 1999 by Dr. Harold E. Barber to celebrate diversity at the college and to provide a platform that addresses the cultural, social, and academic needs of multicultural students.
Our goal is to serve the college community with a wholistic approach in offering programs, advising, and resources that meet the needs of our diverse student body. We encourage student involvement on campus and in the community.
What We Do
The MC International And Multicultural Center is home to the Global Connections Program, International Buddy Program, MC Asian-Pacific Islander Heritage Committee, Africa & Diaspora Heritage Committee and the Multicultural Heritage Committee.
Our programs and committees offer an array of opportunities for the MC community which include but are not limited to: field trips, scholarship fairs, global lesson plans, festivals, information sessions, career exploration, ethnic performances, film screenings, reading lists, events, special exhibits, guest speakers, panels, mentoring, advising, conversation clubs, community & business partnerships, community involvement, and various resources. Get involved!
Global Connections Program
Created in 2001 by Dr. Harold Barber, Global Connections provides a platform to address the social, academic and cultural interests of multicultural students and to celebrate diversity at the college.
Events
September 2020
"Ethiopian Coffee Ceremony and New Year Observance."
Wednesday, September 16 from 4:00-5:00 p.m.
Register for Zoom event.
"The Buganda and Bunyoro Kingdoms of Uganda: A Ugandan Cultural Presentation."
Saturday, September 26 from 3:00-5:00 p.m.
Register for Zoom event.new window ID: 951 8840 4737 // Passcode: 336792
Global Connections Virtual Field Trip: "Caravans of Gold, fragments in Time: Arts, Culture and Exchange Across Medieval Africa."
Africa's history is world history. Learn Morenew window!
September is African Heritage Month!
About African Heritage Month: The first African Heritage Month proclamation in the United States was made in 2008 by County Executive Isaiah Leggett in Montgomery County, Maryland. The purpose of African Heritage Month is to celebrate the contributions of Continental Africans who live in the US, to create awareness of the ties between Africa & the US, and to educate people about the continent of Africa and its people. September was chosen as the month of celebration because it coincides with African Union Day ( September 9).
All are invited to attend Global Connections events, which are sponsored by the MC International and Multicultural Student Center and various co-sponsors. For more information contact Eniola Olowofoyeku at eniola.olowofoyeku@montgomerycollege.edu.
Africa & Diaspora Heritage Committee
Mission
The Africa & Diaspora Heritage Committee is a college-wide committee that promotes positive learning and understanding about the history, issues, culture and diversity of peoples of African descent, world-wide. Each year, we offer cultural events, programs, opportunities and resources for students,faculty, and staff. The culmination of all of these events is our annual MC Africa & Diaspora Heritage Festival. For more information on how to become involved, please contact us!
Africa & Diaspora Heritage Festival
The 1st annual MC Africa and Diaspora Heritage Festival was held at the MC Takoma/Silver Spring campus during Black History Month 2020. Attendees enjoyed cultural displays, performances, food and fun! Check out the highlights in video above.
Events
Check back for updates.
Culture
Want to learn more about the world-wide African Diaspora? Check out the videos below and our reading list (PDF,

) !
Other Resources
Asian-Pacific Islander Heritage Committee
The MC Asian Pacific Island Heritage Committee is a college-wide committee comprised of faculty, staff and students whose purpose is to plan various activities at the college that bring awareness to the diversity and accomplishment of Asian-Pacific people.
MC Multicultural Heritage Committee
This is a college-wide committee with a diverse body of faculty, students, and staff who are committed to celebrating the diversity of different nationalities and cultures at the college. The capstone event of this committee is the MC Multicultural Festival which is celebrating its 10 year anniversary in 2020. If you would like to join this committee, please contact Eniola Olowofoyeku at eniola.olowofoyeku@montgomerycollege.edu.
International Buddy Program
The International Buddy Program is part of the MC Mentoring Network: download the IBP Flyer (PDF,

) to apply.
Publications
Hard copies are available on campus of the Multicultural Student Handbook, the Multicultural Center Brochure, and the STSU-101 Course brochure.
Additional Resources
Montgomery College Global Leaders and Speakers Toastmasters - check back for the MC link soon!
Akademi Kreyol Ayisyen

new window
Photo Gallery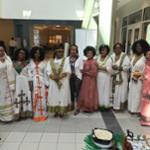 Skip sidebar section
Have Questions?
Ms. Eniola Olowofoyeku

Program Operations Coordinator and International Student Counselor
End of sidebar section